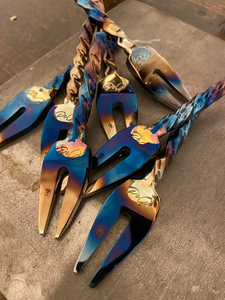 Love the Sick and Twisted design but prefer a two prong??  This is perfect for you! 
Carbon Steel handle and prongs, married with silicon bronze filler, polished to a mirror finish and torched to a vibrant blue.  The best part?  Not one is the same.  Each as unique as the next.  Perfectly Imperfect as we like to say!  Handmade, as always.  Your number will be assigned based on your order.  These are not available for customizing.  
THIS RELEASE WILL BE MADE TO ORDER.  PLEASE ALLOW 3-5 WEEKS FOR PRODUCTION
*Carbon Steel does age and patina over time/ use.  The torched finish will stand up to use on the handle, but- if used, the prongs will show some wear on the finish.